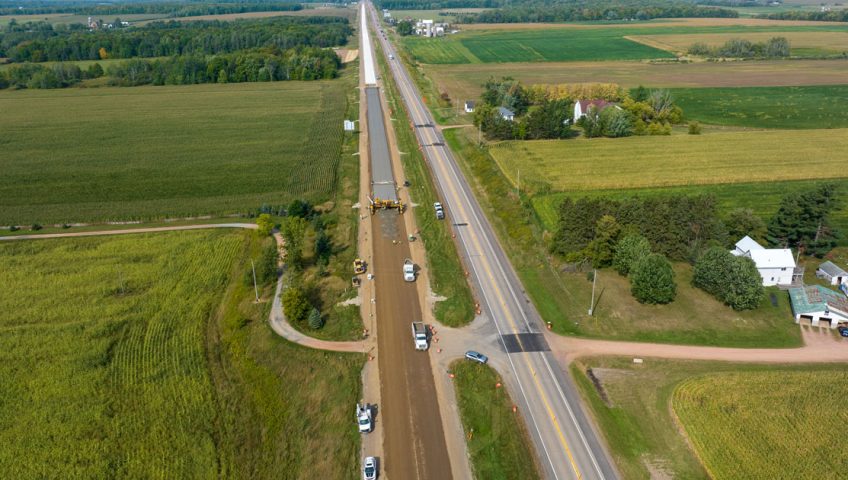 Trierweiler Companies is excited to announce their recent contribution to a significant highway project in Marathon County, Wisconsin. The project, located on Hwy 29, is helping transform the transportation landscape of the region and brings immense value to the community.
The project encompassed a stretch of Hwy 29, commencing 2.5 miles west of Hwy 97 and concluding 5.5 miles east of Hwy 97. Additionally, it involved the construction of 0.22 miles of ramp paving, making it a comprehensive and multifaceted endeavor.
Key specifications for this monumental project included:
8.22 miles of 26′ wide, 10" deep concrete pavement
34,208 tons of stone
24,432 tons of sand
1.5 million gallons of water
8,881 tons of cement
2,145 tons of ash
60 quad dump trucks
25 cement tankers
The project initially had a spring commencement with a target completion date of October 31st. However, due to to a change order from WisDOT, an additional 2.33 miles of pavement was added to the scope, representing a 28.4% increase in the project's size. Despite this, Trierweiler Companies managed to maintain the original October 31st deadline, thanks to their efforts in expediting the project and strategically closing both STH 97 on/off ramps to minimize the duration of the ramp closures.
Trierweiler Companies, with their roots firmly planted in the local community, brought a unique perspective to this project. Their deep connection to the area fosters a sense of pride in delivering solutions that directly impact their fellow Wisconsinites. The company's commitment to delivering top-tier infrastructure improvements is a testament to their devotion to local growth and development.
"Our team at Trierweiler Companies is honored to be entrusted with this significant highway project in Marathon County. We understand the importance of this transportation network for our community and are proud to play a role in enhancing its infrastructure," said Scott Trierweiler, President.
The company's extensive experience in managing complex projects, coupled with their unwavering commitment to quality and safety, made them the ideal choice for this venture.
For further information about Trierweiler Companies, please visit www.trierweilercompanies.com