Our

History

Trierweiler Construction & Supply Co., Inc. was started in 1915 by William Trierweiler. William and his five-man crew replaced the wooden sidewalks in Marshfield, WI with concrete. in the "early" days, concrete was mixed by hand and hauled to the sidewalk forms with wheelbarrows. Other early projects included a street paving project in Oconto Falls, Wisconsin.

In 1947, Trierweiler Construction & Supply Co., Inc. became a corporation in the State of Wisconsin. Also at this time, Robert and Edward joined their father and the company began contracting with the Wisconsin Department of Transportation for highway work. Harold and Ted joined their father and brothers in 1963 after serving their country in the military. Upon William's death in 1970, the four brothers continued to grow and expand the business until their retirements.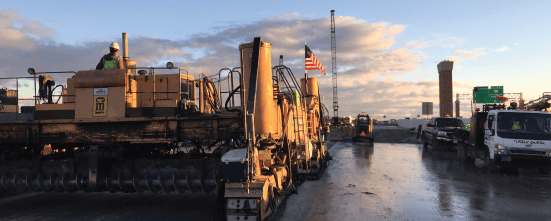 The company continues to operate throughout the State of Wisconsin with an average sales volume of $40 million annually and employs more than 150 people. In addition, Trierweiler Construction & Supply Co., Inc. annually produces:
260,000 cubic yards of concrete, utilizing 11 portable batch plants throughout the state
807,432 square yards of concrete pavement
202,000 linear feet of concrete curb & gutter
50,000 linear feet of concrete barrier wall
510,000 square feet of concrete sidewalk (colored and non-colored)
In 1990, a state-of-the-art permanent ready mix plant was installed at the company's Marshfield, WI location. The plant can produce 200 cubic yards per hour, is fully enclosed and provides heated water and aggregate for year-round operation.
Today the company is headed by third and fourth generation Trierweilers committed to providing a superior product for both residential and commercial customers.
We

are Hiring

Are you a hard worker who is looking to show your skills to us and be fairly rewarded?
At Trierweiler Companies we offer:
 Fulfilling Employment
 Complete Benefits Package
 Well-Earned Income